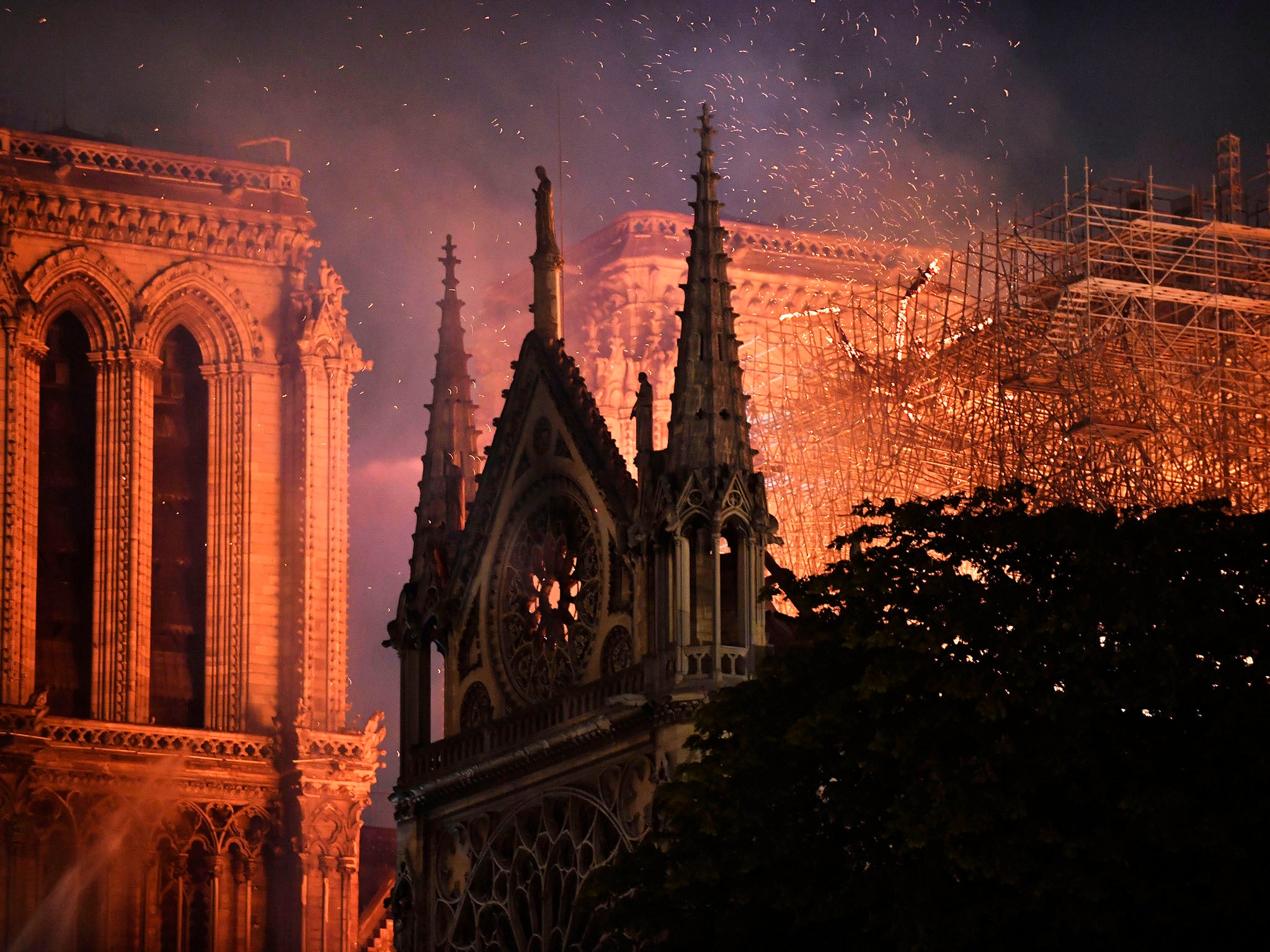 Beauty for Ashes Reading for Incanta Easter Concert 2019
This week we watched in agony as Notre Dame was engulfed in flames. We feared the worst, watching from across the world, hearing commentary about its seemingly inevitable destruction. In the darkness of those unknown hours it seemed likely that the priceless art and relics would burn up into the black Paris sky. That we would wake to a heap of ashes where, for centuries, beauty had stood.
In Isaiah Christ promises us that He will give us Beauty for Ashes.
He doesn't promise us that things won't burn. He doesn't tell us he'll simply sweep away the ashes after the fire.
Jesus doesn't ask us to come to him only if some walls are still in tact, or before our rose windows melt or our spires fall. He doesn't run to fix us only after we've squelched a bit of the fire and crafted something presentable for Him to work with.
He tells us that he will
give
us beauty
for
the
ashes
. The promise is that He will take the most burnt up, dark, nasty, horrid things in our lives and souls and somehow grow not only something worthwhile, but something beautiful from them. He will turn what appears to be the very substance of our ruin into something beautiful.
This might be easier to believe if He said He'd give us beauty for something like clay or bricks or stones. We could imagine how He could make something beautiful of those unformed, and potentially useful things. But ashes? How can beauty rise from ashes?
Just as hope felt lost on Monday night in Paris, so it is with our lives. In the middle of the destruction it often seems our situations or our souls are burned to nothing but worthless ruin. There are moments, sometimes weeks and months and even whole seasons where we feel stuck, sitting in piles of ash, mourning, weighed down by the spirit of heaviness. In these dark, lifeless, burnt up moments it's hard to imagine how the mess will ever be cleared away, let alone flower into something worthwhile and redemptive.
Surely it was so on Good Friday for those who loved Jesus and believed in His power to deliver them. Mary at the cross, lamenting with exceeding greif, the disciples weeping bitterly, the sun and moon hiding their faces from the starless sky.
In that moment they could only see the ashes: the dead Christ, the loss of hope. They couldn't see three days ahead to Easter dawn, the breaking of the tomb, the stone rolled back, the Christ rising with healing and restoration and beauty in His wings.
Ashes, distress, loss, brokenness: this is the Redeemer's pallet. These are the materials Christ uses to create beauty. Just as the dark contrast and shadow make art into a masterpiece, it is the cracks in our lives and the holes in our hearts that make us deep and real and alive, that allow Christ to transform us.
It is when our plans come crashing down that God can start in with His plans, which are far more glorious in the end than anything our limited human minds can dream up.

So when our lives feel burnt up, when it looks as if there is nothing redeemable in our situations or our souls, let us take our pile of ashes to Christ to see if He'll make good on His promise. This may mean we have to work through our anger or doubt, or muster up faith we don't think we have. We may have to wait longer than we thought for a transformation, and it might not look like the one we had envisioned. But drawing near to the Lord, handing Him our ashes and waiting and hoping for the transformation is better than sitting still and stuck in the wreckage.
The Lord hath sent me to bind up the brokenhearted, to proclaim liberty to the captives, to comfort all that mourn; to give unto them
beauty for ashes
, the oil of joy for mourning, the garment of praise for the spirit of heaviness; that they might be called trees of righteousness, the planting of the Lord, that he might be glorified.
Jesus loves broken things. He is glorified when we allow Him in to restore us. We can be of good cheer, Christ has overcome the world. His light shines best through broken things, like our Notre Dame, still standing, with all kinds of love pouring into Paris to redeem that holy artifice.
For Christ, nothing is beyond redemption, He reaches our reaching
and sanctifies to us our
deepest
distress
. If we draw near unto Him and hand over our grief and fear and loss, He will draw near to us. His reclamation will regenerate, refurbish, restore us. He will salvage all the good we have and raise us up. He WILL give us beauty for our ashes.